Trading ideas and portfolio tracking. Part VIII.
Trading is a risky activity. If you follow anything written in the article, you are responsible for the results. The result of this article may be decreased deposit and lost funds. By reading below and making any actions, you agree with our Disclaimer, Policies, and Risk Warning.
Hi everyone! We came back with our new issue of the Weekly Trading Journal. Hope you also check our trading ideas where we discuss more positions that we skip in the trading journal.
We partially closed our ZC position with the chance to reopen it later, and the price today offers us more long-term possibilities. We closed 3 contracts at 341.5.
Since it's a long-term position, there will be plenty of new entries. The last entry we had was on June 26, when we added 3 more contracts. Now we have another one. During the previous week, the price plunged and approached 50-period daily MA. Today, the early futures activities made a possible hammer, which may be a good long-entry point. However, since this candle pattern formed with low accompanied volume, it may be unreliable. For now, I suggest waiting for the pre-market session and consider an increase in the long position in case the open price won't be less than the 330.

In terms of stocks, the only more or less significant movement was in FINV stock. This stock doesn't depend on the US economy recovery from the COVID-19 crisis and has strong fundamentals, so we see a stable increase in the stock every week. Right now, it approached a resistance level at $2.20. We will continue monitoring and managing position in the next week.
---
ZC (Corn) 
6J (Yen)
UA
COTY
HTZ
GC (or MGC)
ASB
FINV
TOTAL
---
May 18
May 18
May 26
May 27
May 26
June 10
June 17
June 17
---
319,37
0.009333
7.7
4.62
-
1'770
13,83
1,5
---
$681
-$20
$592
-$80
-
-
-$429
$1'716
$2'461
---
$3'319



$12'360
-$12'142


$3'537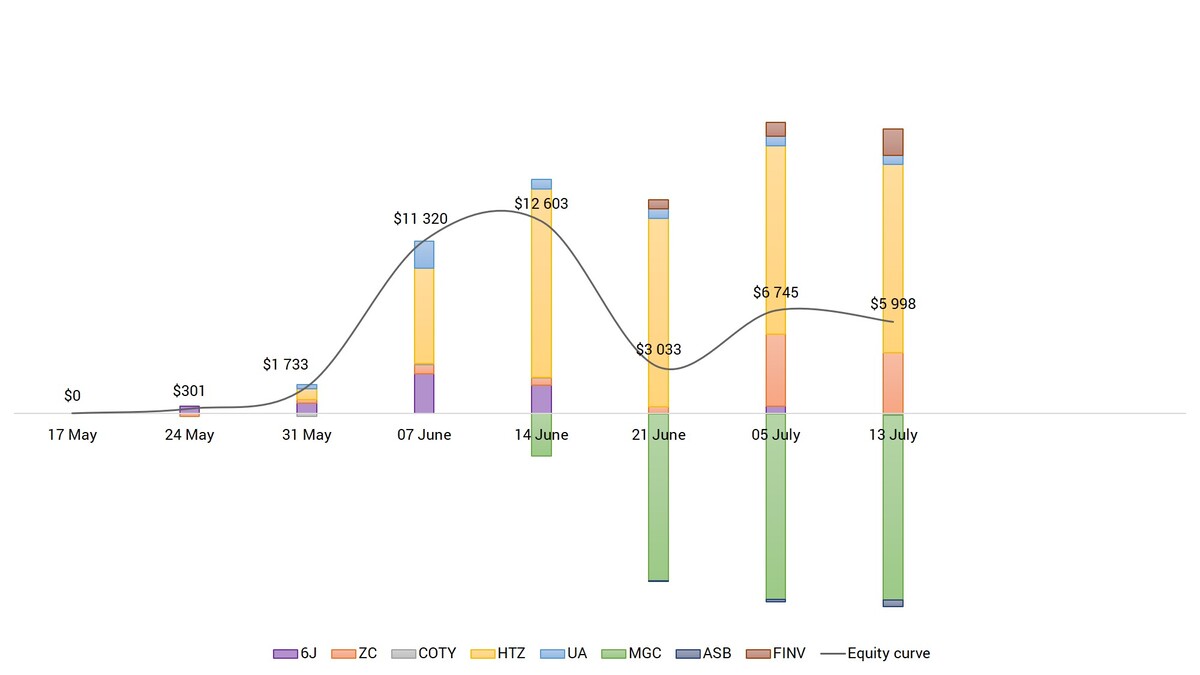 Hope you enjoyed the journal and see you next week!