Trading ideas and portfolio tracking. Part VII.
Trading is a risky activity. If you follow anything written in the article, you are responsible for the results. The result of this article may be decreased deposit and lost funds. By reading below and making any actions, you agree with our Disclaimer, Policies, and Risk Warning.
Hi everyone! We came back with our new issue of the Weekly Trading Journal. Unfortunately, the last week was weak in terms of performance, so we are not going to increase our position this time as well. However, since it's fair not to share any trading ideas while we wait for some positive results in our portfolio. That's why we have started an entirely new research series, which is about trading ideas that do not end up in the Sharpedge Portfolio. We have already posted two new trading ideas, so be sure to check them later. For now, let's check our portfolio.
In terms of stocks, the week was relatively stable. With the exception of FINV, which demonstrates steady positive performance, all the other stocks fluctuated during the week and the closing prices are about equal to the opening prices.
An interesting thing happened in futures, though, and there is one good thing and one bad thing. A good thing is that we bought three more Corn futures contracts and this week the price surged. So now I'm going to close some of it, because I expect a short term retracement, and will reopen it in advance. If the price continues without the break (which I doubt due to exhaustive move and a bearish candle), I will hold the whole position.
The bad thing, though, is that I was stopped at the Gold market once again. If you remember, last time we fixed big loses, but reopened at the top for another 5 MGC contracts. Well, they were stopped as well. This is "kinda" normal when you try to catch the top at a fast timeframe while anticipating trends at a slower timeframe. In our case, I remind you that we expect a long-term downtrend due to COT reports and the Gold-to-Silver ratio. So, despite losing a lot on the Gold market, I'll continue to monitor it. If I see something interesting, I'll either write about it here or in Trading Ideas section.
---
ZC (Corn) 
6J (Yen)
UA
COTY
HTZ
GC (or MGC)
ASB
FINV
TOTAL
---
May 18
May 18
May 26
May 27
May 26
June 10
June 17
June 17
---
319,37
0.009333
7.7
4.62
-
1'770
13,83
1,5
---
$4'726
$480
$632
-$36
-
-
-$159
$884
$6'527
This week we saw some improvements even though Gold losses dragged it really low.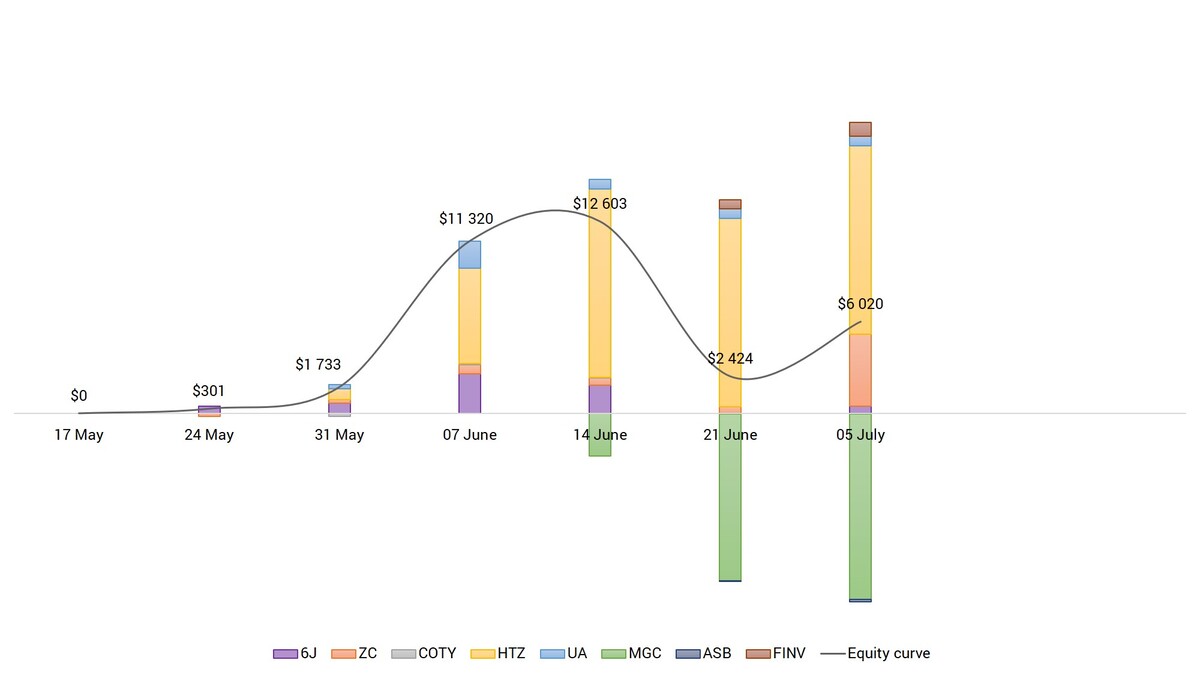 Hope you enjoyed the journal and see you next week!