Trading ideas and portfolio tracking. Part V.
Trading is a risky activity. If you follow anything written in the article, you are responsible for the results. The result of this article may be decreased deposit and lost funds. By reading below and making any actions, you agree with our Disclaimer, Policies, and Risk Warning.
Hi everyone! Once again we issue our weekly journal. This time we discuss two solid stocks and two gambling stocks. Let's go!
Let's start with the solid one - FINV. FINV is the credit service company from China. Yes, we are now introducing some international stocks that are traded on NYSE. So, why do I like FINV? First of all, take a look at the statistics and the chart.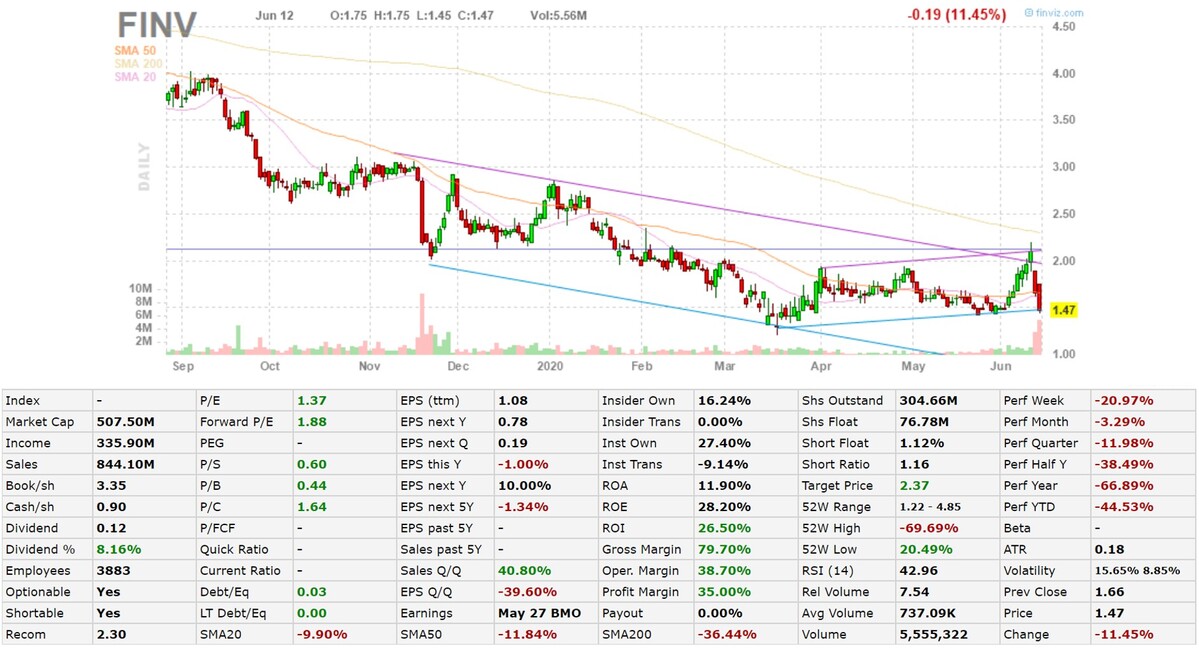 For me - it's great. Let's consider fundamentals first. What do we have here? We have no debt, high dividend yield, low P/E ratio, low P/B ratio, profit margin of 35%, and sales growth of 40%. Let's me briefly compare these figures with the industry averages so you understand why I'm so interested in the stock.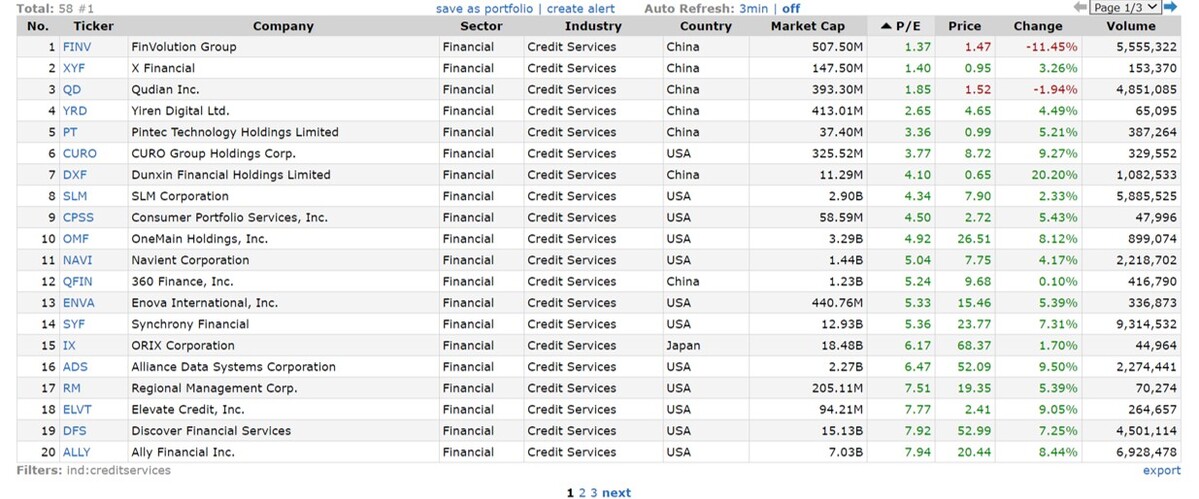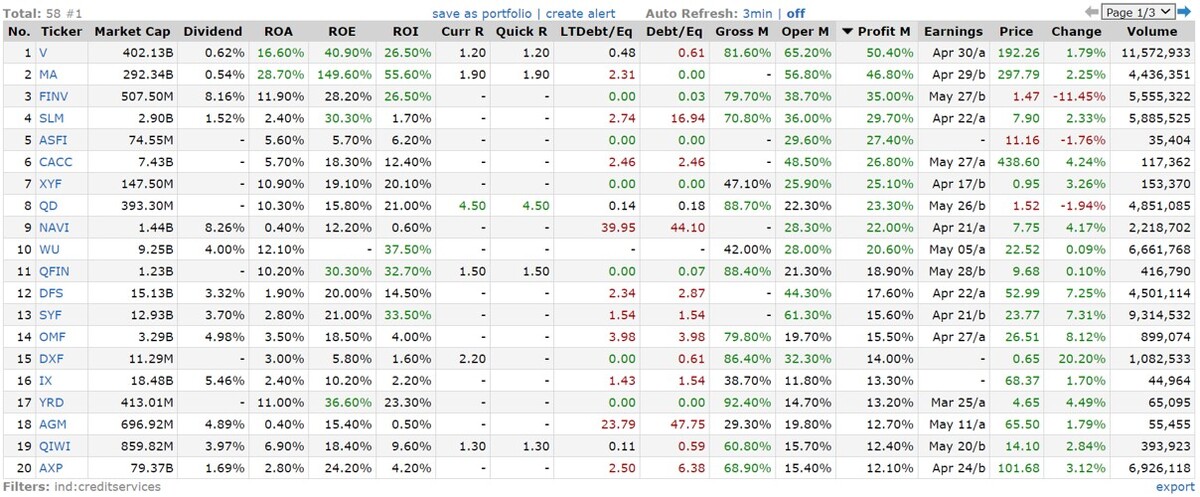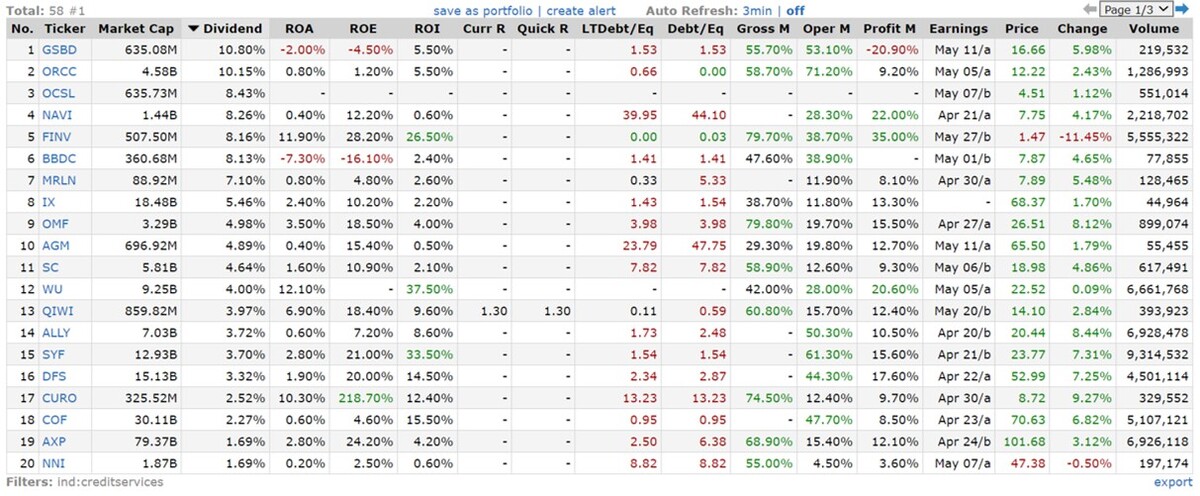 So, you see that the stock is the first in the row in terms of P/E, 3rd in a row in terms of margin (after Visa and Master Card, and doing much better than American Express), 5th in a row in terms of dividends. Great fundamentals lead us to the next question - why does the stock price was falling since it's IPO? Honestly speaking, I don't know - perhaps IPO was overhyped. In any case, I'd like and give it a try. Besides, if you analyze the chart, you will see a strong downswing with no bad news behind it... At least I didn't find anything (maybe I searched not good enough). There is a volume swing, which is a good indicator of a climax; there are a sustainable upward channel and a horizontal support level. Overall, the stock looks really interesting, and given two awful days (with all the Credit Service industry growing), I think of it as a bargain.
Finally, Zacks (which is considered to be a cool investment advisory website) recommends the stock as well... Not sure, though, whether it's a good signal for me.
The next stock is ASB. ASB is a regional bank in the US, and as the whole economy, it's slowly recovering from COVID-19 lockdown. Fundamentals are as nice as in the FINV case, and the chart hints on good timing as well - double (someone may even say triple) bottom with a breakout and a retracement. Besides, there were insiders buying - several directors bought almost $800 thousand worth stocks at a price of... $25. This seems strange, but interesting. I thin, The entry price of $14-$14.3 seems to be a good option.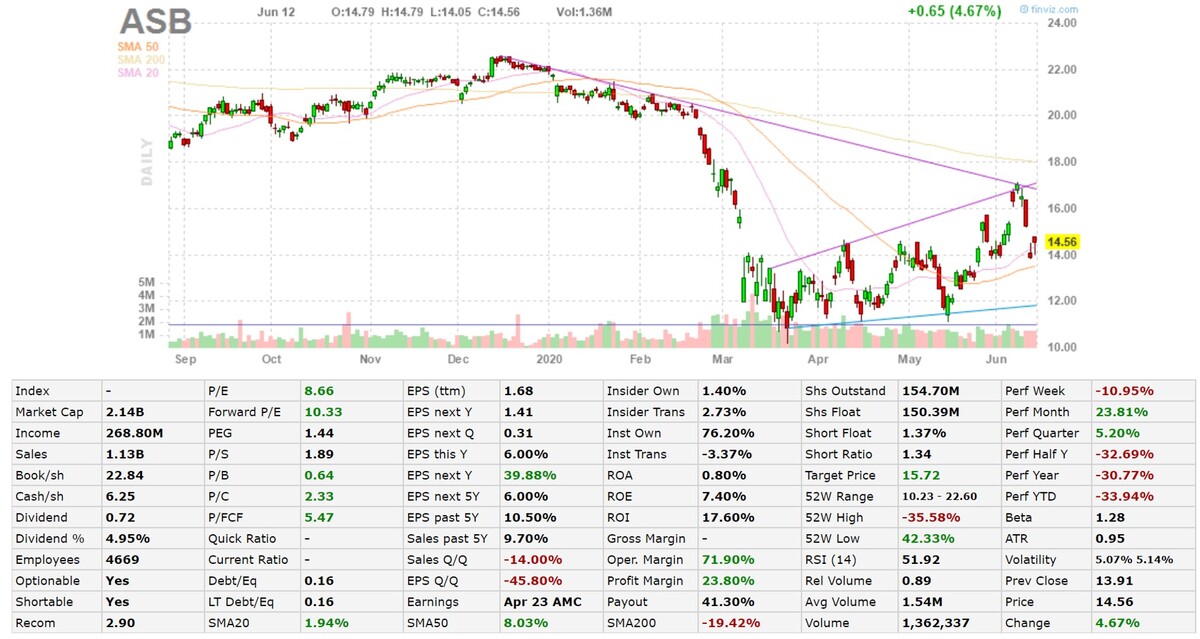 Now we move to gamble stocks! These are the stocks that have awful recent results but with some potentially interesting triggering event. In the case of JT, we see an interesting high volume activity (check out the candle shadow below).
Despite the reasons for such an activity, the price dynamics itself can attract a lot of new blood, and it may boost the price. On the other hand, the fundamentals of the company are so bad, that I cannot even post them here since there was no 18+ content disclaimer in the article. But I guess, you got the point - they are really bad. So this trade should have a close control - I will risk with a small sum and will put a narrow exit. Besides, if the price opens below the support level you see on the chart ($0.64) I won't entry at all.

Finally, another gambling stock - TREC. Its' fundamentals are as bad as in the case of JT (18+ content), but we see a massive volume swing with a support level. The setup is simple - if the price opens above $5.00, I'll buy, and I'll close it if the price drops below $4.95. Really narrow stop, but with trades like this one, you have to react fast and close everything even after a minor negative signal. Still, I think it's going to be fun.

The week was really volatile. First, we saw a massive upswing where we closed HTZ position, then we saw an aggressive retracement. Overall, the possibility of a retracement increased sharply after volatile up movements, and some may argue that we should have closed not only HTZ but other positions as well. Well, maybe some traders should have closed, but once again it's not a question of the "only right" decisions. It's a question of many factors, such as the trading horizon, risk-return ratios, and, most importantly, traders' comfort. I'm a risk-seeking person who is often affected by FOMO syndrome and has a mid-term investment horizon, so in my case closing all the positions would make me deviate from my overall strategy. So, with this in mind, let's take a look at what we have right now.
---
ZC (Corn) 
6J (Yen)
UA
COTY
HTZ
GC (or MGC)
TOTAL
---
May 18
May 18
May 26
May 27
May 26
June 10
---
321 1/4
0.009333
7.7
4.62
0.79
1'719
---
$450
$1'863
$632
$66
-
-$2'768
$243
By the way, I got some feedback on my equity curve chart, and I was told my equity curve chart sucked. Good thing is that I think the same way! I will certainly put more effort into my visualization but for now there are just more important things to do to ensure your smooth education on the platform and platform development as a whole. Still! I'm trying different options, so welcome our new design (which took me two additional clicks to do).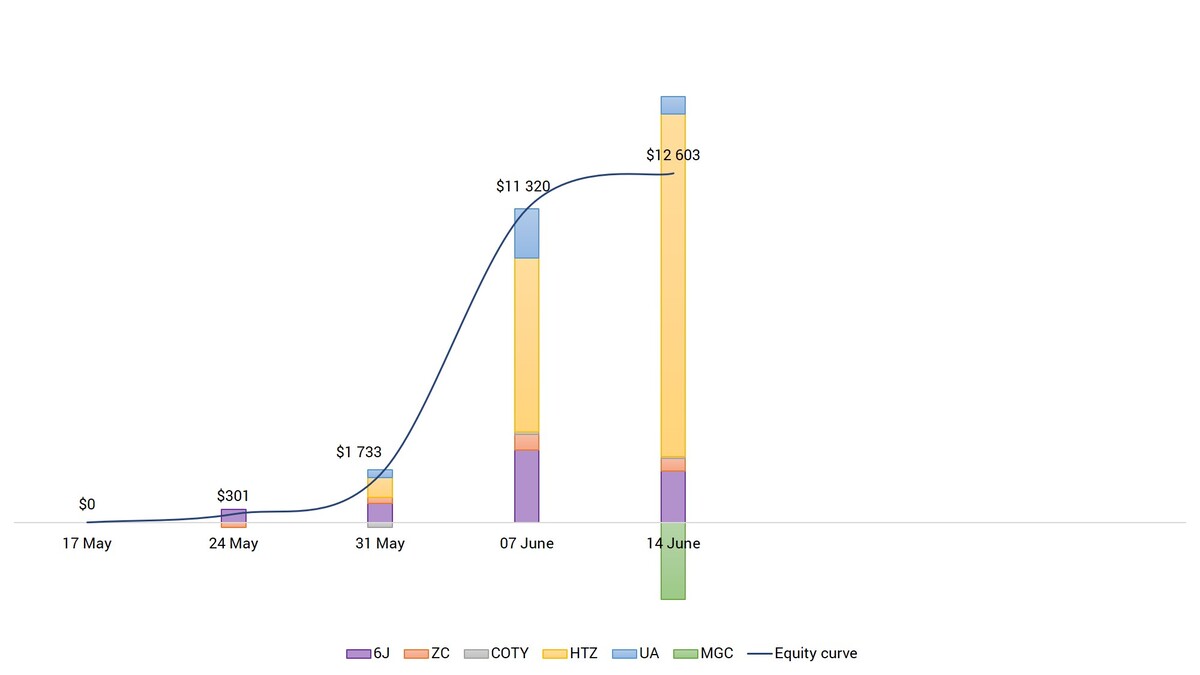 Hope you enjoyed the journal and see you next week!